February 21 – 24, 2018 | U of L David Spinks Theatre | Canadian Play
Winner of the Audience Choice Poll at Sage Theatre's Ignite! Festival
She'ssss back!!! We first met Ms. Sugarcoat at the Lethbridge Fringe Festival. New West liked her so much; we've asked her back. Ms. Sugarcoat is a hilarious original show written and performed by Alice Nelson. Alice has worked for New West in the past and we are thrilled to have her on the New West stage. Bright-eyed and bushy-tailed, Ms. Sugarcoat is eager to mold the young minds of the future. But university textbooks didn't prepare her for helicopter parents, entitled high-needs students, and political correctness at the cost of telling the truth. When Pat the Beaver shows up, Ms. Sugarcoat delicately controlled world threatens to implode.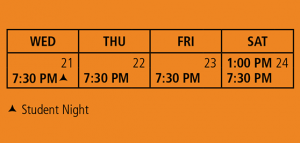 Purchase your tickets today!
Phone: 403-329-2616 starting on May 2, 2017 @ 2pm
Online: www.newwestheatre.com/tickets/
In Person: U of L Penny Building (DOWNTOWN) 324 5th Street S – 12-5pm Monday to Friday & at the performance venue one hour before any performance.
Ticket prices include GST and service charges
Online Ticketing, Will Call, and Phone Order ticketing are now available to ALL customers and there is no extra charge.
Group and school rates are available by calling our administration office at 403-381-9378
New West Theatre reserves the right to change productions, dates and prices without notice