November 30 – December 2, 2017 | Multicultural Centre | Christmas Concert
The December collaboration between New West Theatre and the Lethbridge Big Band is back for the first time in over 7 years. Christmas Memories is a throwback to the charming television variety Christmas specials you remember from your youth. regardless of the weather in December, this joyful production will move you into the holiday spirit.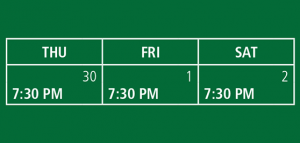 Purchase your tickets today!
Phone: 403-329-2616 starting on May 2, 2017 @ 2pm
Online: www.newwestheatre.com/tickets/
In Person: U of L Penny Building (DOWNTOWN) 324 5th Street S – 12-5pm Monday to Friday & at the performance venue one hour before any performance.
Ticket prices include GST and service charges
Online Ticketing, Will Call, and Phone Order ticketing are now available to ALL customers and there is no extra charge.
Group and school rates are available by calling our administration office at 403-381-9378
New West Theatre reserves the right to change productions, dates and prices without notice