December 19, 2017 – January 6, 2018 | Chinook High School Media Centre | Music-Comedy Revue
Under the starry nights of winter, New West is heating it up. With the best from the New West collection, this show is a holiday treat for the whole family. The New West stars will be dancing and singing their way through some of the best hits from previous New West shows. Our most popular numbers are the only songs that make the Starlight song list. Take the best songs and add the best comedy sketches and you are creating Starlight. The brightest and best of New West is Starlight.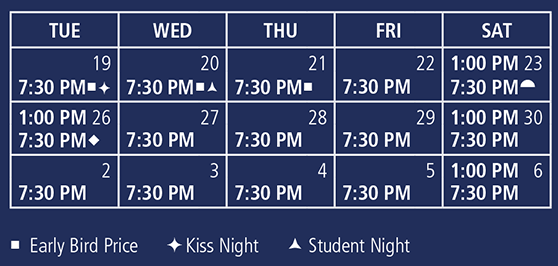 Purchase your tickets today!
Phone: 403-329-2616 starting on May 2, 2017 @ 2pm
Online: www.newwestheatre.com/tickets/
In Person: U of L Penny Building (DOWNTOWN) 324 5th Street S – 12-5pm Monday to Friday & at the performance venue one hour before any performance.
Ticket prices include GST and service charges
Online Ticketing, Will Call, and Phone Order ticketing are now available to ALL customers and there is no extra charge.
Group and school rates are available by calling our administration office at 403-381-9378
New West Theatre reserves the right to change productions, dates and prices without notice