Since 1990 New West Theatre has been entertaining Southern Alberta audiences and bringing live professional theatre to the region.

NEW WEST THEATRE ANNOUNCES NEW ADMINISTRATIVE TEAM
FOR IMMEDIATE RELEASE | December 1, 2015 – Lethbridge, AB
New West Theatre is thrilled to announce the appointment of Sharon Peat as Artistic Director and Derek Stevenson as General Manager. The new administrative team has been working diligently on the final two shows of our 2015/2016 season: All Spruced Up and Three Little Pigs, and have begun preparing for an exciting 2016/2017 season.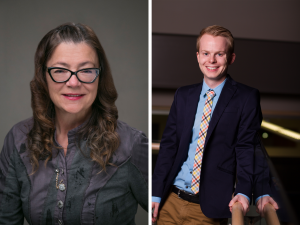 Derek Stevenson graduated from the University of Lethbridge with a B.A in theatre and a B.Mgt in finance in 2012 and most recently completed his Masters in International Arts Management studying in Dallas, Montreal and Milan. Derek grew up in Lethbridge and has been involved in theatre in Lethbridge as a performer and volunteer for over 10 years. Derek began his career in arts management as the communications coordinator and later as the assistant to the executive director for the Allied Arts Council of Lethbridge.
Sharon Peat has been a director and arts educator in Lethbridge for over thirty years. She directed Shape of a Girl for New West Theatre and has sat on the Board of Directors. In fact, many current New West performers were students in Sharon's drama classes. At the Provincial High School Drama Festival, her students have received close to forty different honors over the years, from Outstanding Performance to Outstanding Production. At the Adult Drama Festival, her production was recognized with Best Production, Best Director and Best Actor Awards. Dedicated to fine arts development in Lethbridge, she is a strong advocate for the value of live theatre in our community.
"On behalf of the Board of Directors, we are extremely thrilled to welcome Derek Stevenson and Sharon Peat to the New West Theatre family. Together, we will continue to enrich, engage and entertain our community by fostering the creative and dynamic theatre that we have all come to know and love. As a board and staff, we are committed to being champions for both our theatre company and our city by producing some of the best live theatre in Southern Alberta. We would like to thank all of our patrons, volunteers and sponsors for their ongoing support and are looking forward to many more seasons of serving our community's artistic needs."
– Whitney Bullock, New West Theatre Board President
"Lethbridge is fortunate to have a treasure like New West Theatre. I believe we are starting a new chapter and have incredible potential in front of us. I am excited to engage with these immensely talented artists to develop new exciting live theatre experiences for our city. Life is better lived live."
– Sharon Peat
"The Lethbridge arts community has given so much to me over the years and I am so honoured to have been given the opportunity to give back as the General Manager of New West Theatre. After working and training in the arts management field for almost 10 years, the challenge of leading New West Theatre into its next chapter is an extraordinary opportunity."
– Derek Stevenson
For more information, members of the media may contact:
Derek Stevenson
(403) 381-9378
generalmanager@newwesttheatre.com


———————————————

ARTISTIC DIRECTOR OF NEW WEST THEATRE TO STEP DOWN
FOR IMMEDIATE RELEASE | JANUARY 29, 2015 – Lethbridge, AB
New West Theatre announces today that Jeremy Mason will step down as Artistic Director at the end of the 2014-15 season. Jeremy has been part of the organization's administrative team for the past six years and will end his term as Artistic Director in the spring of 2015. A search for a new Artistic Director will begin immediately.
"New West Theatre has been incredibly fortunate to have Jeremy part of our administrative team these past six years. His integrity, impressive foresight as an administrator, and outstanding artistic vision have successfully guided our company through uncertain times, and laid a solid foundation for growth in the coming years. We are thankful for the time Jeremy has dedicated to New West Theatre and wish him all the best with his professional endeavours" says Doug MacArthur, President of the Board of Directors. "Change in leadership is not unfamiliar to New West Theatre. Our success has never been based on the work of one individual, but instead on the collective work of an amazing group of artists, technicians, administrators and volunteers. I anticipate a smooth transition to a new Artistic Director later this spring."
Jeremy states "New West Theatre's 25th season has been one of its most successful and this is the perfect time to start looking ahead to the next 25 years. I'm extraordinarily proud of what this theatre has been able to accomplish, and it's thanks to the hard work of the artists and technicians and of course the dedication of Southern Albertan audiences. New West Theatre has been an instrumental part of my life, but after six seasons it's time to pass the torch on to someone who will bring fresh energy and ideas to the table. I'm excited to continue my work as a freelance artist."
Jeremy and General Manager, Jeff Newman, are currently planning the 2015-16 season, which will be launched in early spring. The season will continue with high-energy productions that audiences have come to love over the company's history.
Board president, Doug MacArthur, will be heading the hiring committee, which will be comprised of New West Theatre board members and staff. The position will be posted immediately and the committee expects to have a new Artistic Director in place for the start of the 2015-16 season.
For more information, members of the media may contact:
Jeff Newman
(403) 381-9378
generalmanager@newwesttheatre.com

Click to view the videos of a particular category
2015-2016 Season | TV Commercials

2014-2015 Season | Season Promo Videos

2013-2014 Season | TV Commercials

2013-2014 Season | Behind the Scenes

2013-2014 Season | Season Promo Videos

2012-2013 Season | TV Commercials