October 30, 2019 | FOR IMMEDIATE RELEASE
LEADERSHIP TRANSITION AT NEW WEST THEATRE
New West Theatre is sad to announce the retirement of our Artistic Director, Sharon Peat. Sharon took over as Artistic Director in 2016 and has overseen the company through a period of tremendous growth and excitement. Sharon's contributions to New West Theatre will be remembered fondly and held in high regard.
New West Theatre wishes Sharon all the best in her retirement and would like to thank her for her commitment and amazing contributions to our company and to the theatre community in southern Alberta.
While New West Theatre is sad to be losing Sharon, we are excited to announce that current General Manager, Kelly Reay, will be sliding into the Artistic Director's seat. Kelly brings 20 years of industry experience as a theatre director, programmer, producer and administrator. Kelly previously served 10 years as the Artistic Director of Sage Theatre in Calgary, and is a veteran of the Alberta Theatre industry.
"We are disappointed to be losing Sharon Peat, and wish her nothing but happiness in her retirement. We thank her for her tremendous service to New West Theatre," says Board President Cyndi Starzyk-Frey. "Succeeding Sharon, we are thrilled to have Kelly Reay stepping up to become our new Artistic Director. We are excited to see the next phase of New West Theatre's journey under Kelly's artistic leadership".
New West Theatre will begin a search for a new General Manager immediately. For more details, please visit www.newwesttheatre.com
May 6, 2019 | FOR IMMEDIATE RELEASE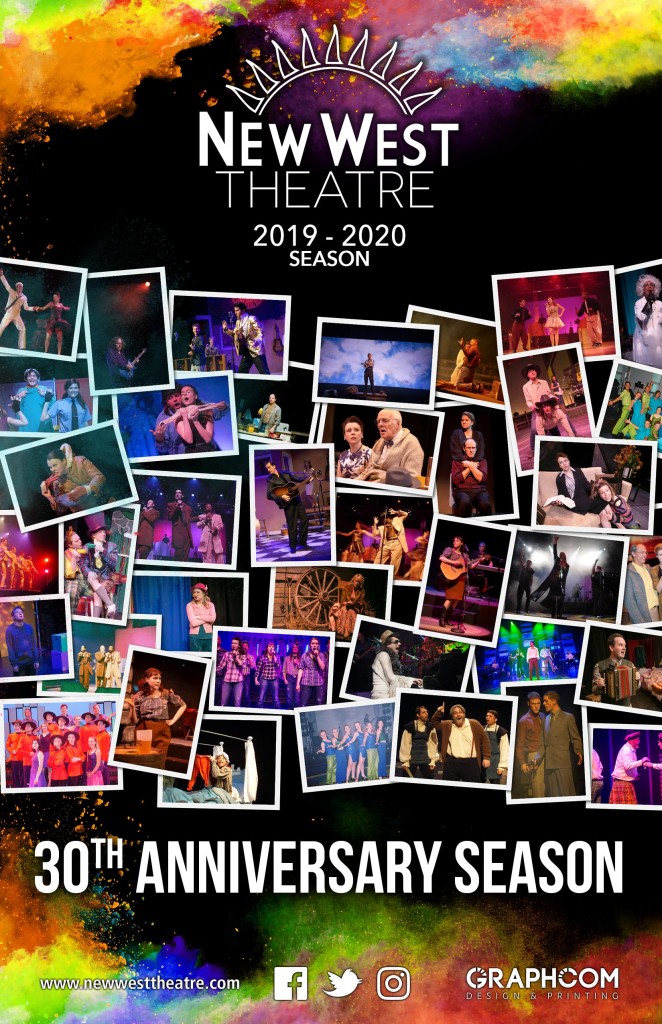 JUST ANNOUNCED: 2019-20 SEASON
NEW WEST THEATRE TURNS 30!
New season is full of surprises including traditional New West Comedy Music Revues, a classic rock n roll musical, a new Canadian musical, and a new Children's show from a Lethbridge playwright.
LETHBRIDGE, ALBERTA – Today New West Theatre announced their 30th season that will run from August 2019 until March 2020. Performing in the beautiful Yates Memorial Centre in Lethbridge, AB, New West Theatre is excited to continue our longstanding mission to produce professional theatre for Southern Alberta audiences.
"New West Theatre turns 30 in 2020.  Hard to believe, but it's true!  This 'little company that could' has been delighting audiences for three decades!  The upcoming season is steeped in New West tradition as well celebrating 30 years, while looking ahead to the next 30!  New West continues to evolve and grow, and this season we are thrilled to have added a second musical and have adjusted performance dates to better accommodate Lethbridge audiences," says Artistic Director Sharon Peat.
The 2019-20 Lineup:
Divine
The Divine Women of Song
An Original New West Theatre Production
AUGUST 7 – 24, 2019
Music Comedy Revue
Buddy: The Buddy Holly Story
by Alan Janes
SEPTEMBER 4 – 21, 2019
Musical
Celebrate
The Anniversary Special
An Original New West Theatre Production
DECEMBER 18, 2019 – JANUARY 4, 2020
Music Comedy Revue
The Legend of the Lost Tooth
by Nicola Elson
DECEMBER 21, 2019 – JANUARY 4, 2020
Theatre for Young Audiences
Dear Johnny Deere
Book by Ken Cameron, based on the music and lyrics of Fred Eaglesmith
Additional music and arrangements by David Archibald
MARCH 4 – 14, 2020
Canadian Musical
Special Attractions:
Roots: Back to the Beginning
New West Theatre returns to the Empress Theatre in Fort McLeod
An Original New West Theatre Production
June 21 & 22, 2019
Music Comedy Revue
www.macleodempress.com

Trader Tales
by Andrew Legg
Produced in Partnership with Galt Museum & Fort Whoop-Up
Performances at Fort Whoop-Up
Thursday evenings from May 2 to August 28
Storytelling Theatre
fort.galtmuseum.com
Life on the Whoop-Up Trail
by Andrew Legg
Produced in Partnership with Galt Museum & Fort Whoop-Up
Performances at Fort Whoop-Up
Wednesday evenings from July 10 to August 21
DinnerTheatre
fort.galtmuseum.com
Diverse theatre experiences make this season an exciting collection of artistic works; New West has something for everyone! As Southern Alberta's only professional company, we are pleased to offer song, dance and story to audiences of any age.
"We are committed to Lethbridge and strive towards vibrant theatre that moves, touches, and appeals to the wide range of theatre lovers.  The Arts are the foundation of a rich and thriving culture in our beloved community.  New West is proud to be part of that foundation.  From singing and dance, to acting and children's tours, we put the community first in everything we do" – Sharon Peat Artistic Director
Season Subscriptions & Single Tickets can be purchased at the Yates Memorial Theatre or at Enmax Ticket Centre
For more information about the plays in the 2019-20 season or becoming a New West Theatre subscriber, please visit www.newwesttheatre.com.
For media enquires, please contact:
Kelly Reay
General Manager
New West Theatre
(403) 381-9378
generalmanager@newwesttheatre.com
ABOUT NEW WEST THEATRE
New West Theatre is a Lethbridge based, registered charitable not-for-profit, professional theatre company. We produce at least five productions annually, including musicals, music comedy revue productions, theatre for young audiences, Canadian plays and more. and conduct educational theatre programming including Summer Theatre Camps, a year-round Theatre School.
Twitter: @NewWestTheatre  Instagram: @NewWestTheatre  Facebook: NewWestTheatreLethbridge
________________________________________________________________
January 9, 2019 | FOR IMMEDIATE RELEASE
NEW WEST THEATRE ANNOUNCES NEW GENERAL MANAGER
LETHBRIDGE, ALBERTA – New West Theatre is pleased to announce the appointment of new General Manager, Kelly Reay. A veteran of the Canadian Theatre industry, Mr. Reay brings 20 years of experience and expertise to New West Theatre. He is an award-winning producer, director and administrator, who has recently relocated to Lethbridge with his young family. Recently, Kelly served as Producer of One Yellow Rabbit's High Performance Rodeo (2016-18) and spent 10 years (2004-12) as Artistic Director of Calgary's Sage Theatre. As a freelance practitioner, Kelly has worked with dozens of Canadian theatre companies, including Theatre Calgary, Vertigo Theatre, Lunchbox Theatre, The Banff Centre, The National Arts Centre, Shadow Theatre, Theatre North West, University of Calgary and Red Deer College
"I am thrilled to be joining the team at New West Theatre, and look forward to contributing to the continued growth and sustainability of this company, which is a cultural staple of Southern Alberta", says Reay. "Lethbridge has a passionate and flourishing arts community and I am excited to be making my home here".
Kelly replaces Derek Stevenson, who after three highly productive years with the company, has taken a new position with the Rozsa Foundation in Calgary. New West Theatre is incredibly grateful for the contribution of Mr. Stevenson.